Dödshoten vardag för kvinnliga journalister
2 december-deklarationen: I dag visar vi vårt stöd för alla kvinnor som dagligen trotsar dödshot och näthat
Detta är en debattartikel. Det är skribenten som står för åsikterna som förs fram i texten, inte Aftonbladet.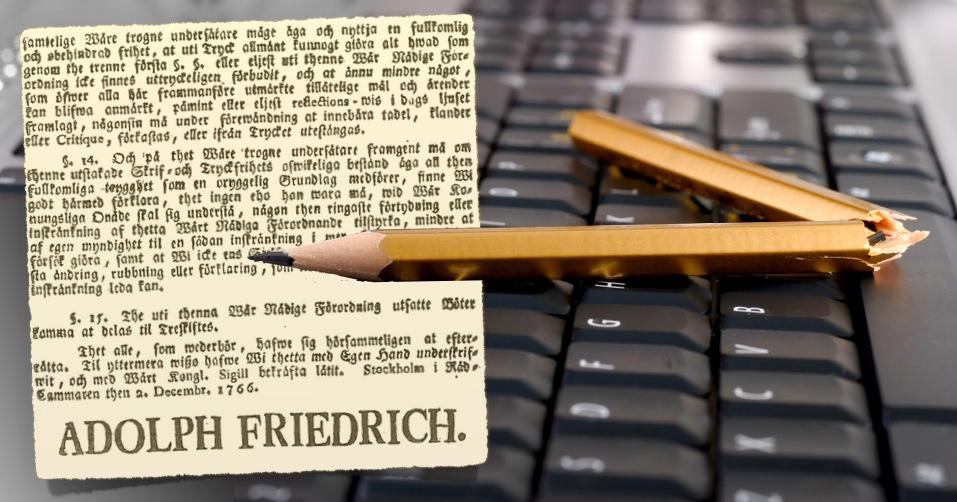 DEBATT. Den 2 december 1766 antog den svenska kungen en Nådig förordning angående skrif och tryckfriheten – världens första lagstiftning som garanterade rätten till fri press.
I dag, 250 år senare, arbetar journalister med tryck- och yttrandefriheten som grund för att avslöja korruption, skapa insyn och utkräva ansvar. Men det ökande näthatet och hoten gör journalisternas nödvändiga arbete allt svårare.
På 250-årsdagen av den historiska lagen vill vi därför mana till större insatser för att skydda journalister.
Vi publicister, som undertecknat denna deklaration världen över, ser ett behov av att stärka fri, oberoende och professionell journalistik på en global nivå.
Professionell journalistik är det bästa sättet att motverka desinformation och bekämpa hatbrott. Journalistik är det främsta vapnet mot alla typer av fördomar.
Journalister står ofta i främsta ledet när det gäller att försvara de mänskliga rättigheterna och kvinnliga journalisterna är de mest utsatta för hot och hat. De blir oftast måltavlor, inte för att de rapporterar om maktmissbruk, utan för att de är kvinnor.
Vi vill speciellt uppmärksamma de särskilda faror som kvinnliga journalister möter och understryka behovet av att stävja den ökande fientlighet mot kvinnors yttrandefrihet som upplevs världen över. Vi fördömer de som använder hot och hat mot kvinnliga journalister. Det är ett hot inte bara mot kvalitetsjournalistiken utan mot själva demokratin.
Vi vill, denna historiska dag, visa vårt stöd för alla kvinnliga journalister världen över som trotsar dödshot och näthat för att utföra sin dagliga gärning och som fortsätter ge medborgarna den information dessa behöver för att ta upplysta beslut.

Marcelo Rech, RBS Editorial Vice President/President, World Editors Forum
Erik Bjerager, Kristeligt Dagblad Editor in Chief
Carlos Guyot, La Nación Editor-in-Chief
Matti Kalliokoski, Helsingin Sanomat Editorial Page Editor
Sanay Gupta Dainik Jagran, Editor-in-Chief & CEO
Joseph Odindo, Standard GroupGroup Editorial Director
Toyosi Ogunseye, Sunday Punch Editor
Patrick Daniel, Singapore Press Holdings CEO
Ertuğrul Özkök, Hürriyet Columnist
David Callaway, The Street CEO
Michael Cooke, Toronto Star Editor in Chief
Javier Garza, ICFJ/ World Editors Forum Newsroom Safety consultant
Ranya Radwan, NOW News Blog Editor
Wafa' Abdel Rahman, Filastiniyat Director
Khan Sophirom Rasmei, Kampuchea Daily Freelance Journalist
Najat Gemayel, Lebanese Forces, Editorial secretary
Sunarti Sain Radar Selatan, Daily Newspaper (Fajar Group) Editor in Chief
Ferial Haffajee, Bloomberg Journalist
Lisa MacLeod, Times Media Head Digital
Fatemah Farag, Welad ElBalad Media Founder and CEO
Wolfgang Krach, Süddeutsche Zeitung Editor in Chief/First Vice President, World Editors Forum
Helje Solberg, VG TV, editor and CEO
Zaffar Abbas, Dawn, editor
Anette Novak, Fojo media Institute Vice Chairperson/Board Member, World Editors Forum
Vladimir Sungorkin, Komsomolskaya Pravda General Director, Editor-in-Chief
Mats Djurberg, Swedish National Commission for UNESCO Secretary General
Batsho Dambe-Groth, Women in Media programme 2016 (WAN-IFRA) Coach 
Kersti Forsberg, Fojo Media Institut Director
Marie Blomgren, Journalist
Bazlur Rahman, Bangladesh NGOs Network for Radio & Communication Chief Executive Officer
Ulrik Petersson, MEG Program Director
Carita Lehtonen
Hanna Andersson, Fojo Media Institute Board Member
Susan Valentine
Oghia Michael, Hivos iGmena Communications Manager
Ilaria Fevola, WAN-IFRA Legal Researcher
Kamrul Hasan Syed, Bangladesh NGOs Network for Radio and Communication (BNNRC) Coordinator, Knowledge Management for Development (KM4D)
Dessi Damianova, Free Press Unlimited Program Manager Asia
Andrew Heslop, WAN-IFRA Director, Media Freedom
Hedvig Lundstrom, WAN-IFRA Project Assistant, Media Freedom
Annalisa Cappalonga
Nielsen Line, International Media Support Program Manager
Jesper Højberg, International Media Support Director
Laura Castellanos, Independent Freelance Journalist
Alberto Miglio, University of Torino Legal Researcher
Samar Haddadin, Alrai Newspaper/ Member of the Jordanian Press Association Council Managing Editor
Jessikka Aro, Yle Kioski Journalist
Sami Sundelin, FRF Freelancer
Jarmo Mäkelä
Anni Mattila, Journalist
Anna Vartiainen
Jorma Hiekkanen
Alberto Mardegan, Software Developer
Raili Sergejeff
Aleksi Jantti, Account Manager
Erja Pelkonen
Timo Toivio Business Manager
Max Turunen, Freelance Illustrator
Aulis Vainionpää
Vincent Peyrègne, WAN-IFRA CEO
Kalevi Tikkanen
Janne Makinen, Anima vitae Lead lighting/compositing artist
Matti Istanmäki Freelance
Jorma Aarnio
Petteri Aki Lehtinen, Journalist (DSocSci / MA) Freelancer
Jane Godia, African Woman and Child Feature Service, Managing Editor
Cherilyn Ireton, WAN-IFRA Executive Director, World Editors Forum
Hilkka Aro
Alison Meston
James Evelegh, InPublishing Editor
Jukka Holmberg, Finnmedia CEO
Rosie Mpassou Massengo, Africanews News Coordinator
Farah Wael, WAN-IFRA Digital Content Manager, WIN
Asmaa Badr, YOUM7 Journalist
Claudio Cocorocchia, The World Economic Forum Head of Shaping the Future of Information and Entertainment
Amanda Vermeulen, Former Journalist
Churchill Otieno, Nation Media Group Managing Editor - Digital
Cherotich Tanui, Freelance Journalist
Wilson Kelvin Kasiwulaya, The Ombudsman Reporter
Dawar Khan, Jang Media Group Sub-Editor
Fatuma Abdullahi, Freelance Journalist/ Communication Consultant
Willie Mponda, The Sun Editor
Zofia Mazur, Student
Izak Minnaar, SABC Digital News Editor
Emmanuel Dogbevi, Ghana Business News Managing Editor
Michael Sarpong Bruce, Freelance Communication Strategist and Journalist
Emang Bokhutlo, The Voice Newspaper Botswana Editor-in-Chief
Lorrencia Nkrumah, Freelancer Former Journalist with Citi Fm Broadcast Journalist
Kalle Sandhammar, NSD Editor-in-Chief and Publisher
Anna Benker, Folkbladet Editor-in-Chief and Publisher
Pia Rehnquist, Sydsvenskan/HD Editor-in-Chief and Publisher
Jonas Kanje, Helsingborgs Dagblad Editor-in-Chief
Anna Lindberg, Östgöta Media Publisher 
Christer Kustvik, Östgöta Correspondenten/ Motala & Vadstena Tidning Editor-in-Chief
Mats Willner, Norrköpings Tidningar Editor-in-Chief
Mikael Sönne, Västerviks-Tidningen Editor-in-Chief
Jan Justegård, Tranås-Posten Publisher
Peter Hjörne, Göteborgs-Posten Editorial Writer
Cecilia Krönlein, Göteborgs-Posten Editor-in-Chief
Sofia Olsson Olsén, Aftonbladet Editor-in-Chief, CEO and Publisher
Anders Nilsson, Mediehuset NA Publisher
Mikael Rotesten, Nya Wermlands-Tidningen Publisher
Marcus Melinder, Norran Publisher
Per Gustafsson, Skaraborgsbygden Publisher
Hans Lindeberg, Östersunds-Posten Editor-in-Chief
Mimmi Karlsson-Bernfalk, Norra Skåne Editor-in-Chief
Michel Golden, New York Times Vice Chairman
Jothi Jeyasingam, Sun Media Corporation Sdn Bhd Deputy News Editor (Digital Media)
Anita Kusuma Wardana, PT Bosowa Media Grafika (Tribun Timur) Editor Assistant
Tapera Chikuvira, Independent Journalist
Reginaldo Tchambule, Magazine Independente Reporter/Journalist
Nelson Mucandze, Magazine Independente Journalist
Pamela Ofori Boateng, Ghana Business News News Reporter
Walaa Shamali, Alhayat al Jadeeda Newspaper Editor
Ghias Aljundi, Independent Consultant
Ayesha Mall, Journalism academic
Mathatha Tsedu, South African National Editors Forum (SANEF) Executive Director
Joyce Babe Pañares, Manila Standard City Editor
Jovial Rantao, The African Editors Forum African Editors Forum
Amina Frense, IAJ -- Institute for the Advancement of Journalism Board Chairperson
Moses Moyo, Inner City Gazette Publisher
Tasneem Abdullatef, Nooun.net Editor
Fatma Lotfi Hemisa, EMDP Journalist, Translator
Chiara Carter, Weekend Argus Editor 
Franz Kruger, University of the Witwatersrand Head of Journalism Department
Editha Caduaya, Newsline.ph Journalist
Benedicta Asiimwe, Nation Media Group Journalist
Margie Orford, PEN South Africa President
Mandla Langa, PEN South Africa Executive Vice-President
Raymond Louw, PEN South Africa Vice-President
Maria Midorie Lijauco, Inquirer Publications Inc - Cebu Daily News Lifestyle Editor
Karabo Rajuili, AmaBhungane Centre for Investigative Journalism Advocacy Coordinator
Valerie Nguekam Edithe, Journal le Zenith Reporter
Lucía Lagunes, Cimacnoticias Director
Lilian George Timbuka, Mwananchi Communication Limited Journalist/Sub-Editor
Glenda Daniels, Wits University Media Studies Senior Lecturer
Abiodun Salawu North-West University Professor
Åsa Tillberg Widell, Nyhetsbolaget CEO
Jeanette Gustafsdotter, TU / Swedish Media Publishers Association CEO
Abier Mohamed Adawy Genidy, Welad El Balad Reporter
Sofia Wadensjö Karén, Vi Media AB Editor-in-Chief/Publisher
Carmen Aristegui, Aristegui Noticias Journalist
Antti Niemi
Daniel Nordström, VLT, Sala Allehanda, Fagersta-Posten, Bärgslagsbladet/Arboga Tidning, Mittmedia Editor-in-Chief
Aniesha Bulbulia, Institute for the Advancement of Journalism Marketing & Business Development Manager
Eva Burman, Eskilstuna-Kuriren Editor-in-Chief and Publisher
Kerstin Neld, Sveriges Tidskrifter CEO
Anna Gullberg, Gefle Dagblad Editor-in-Chief
Galina Timchenko, Meduza CEO
Petra Quiding, Fojo Media Institute Deputy Programme Manager
Katarina Berg, Independent Reporter
Per-Anders Broberg, Utgivarna VD/CEO
Lizette Rabe, Department of Journalism Stellenbosch University Professor
Baria Alamuddin, Alhayat News Paper Foreign Editor
Peter Franke, Värmlands Folkblad Editor in chief
Charlotta Friborg, UNT Editor in chief
Håkan Holmberg, UNT Political editor

Häng med i debatten och kommentera artikeln – följ Aftonbladet Debatt på Facebook.