Obama: Stoppa den här farsen
Publicerad:
Uppdaterad:
NYHETER
Kongressen har fortfarande inte kommit överens eller närmat sig en kompromiss.
USA:s president sätter nu ner foten:
– Kör en omröstning. Stoppa denna fars. Avsluta stängningen nu, säger Barack Obama i ett radiouttalande.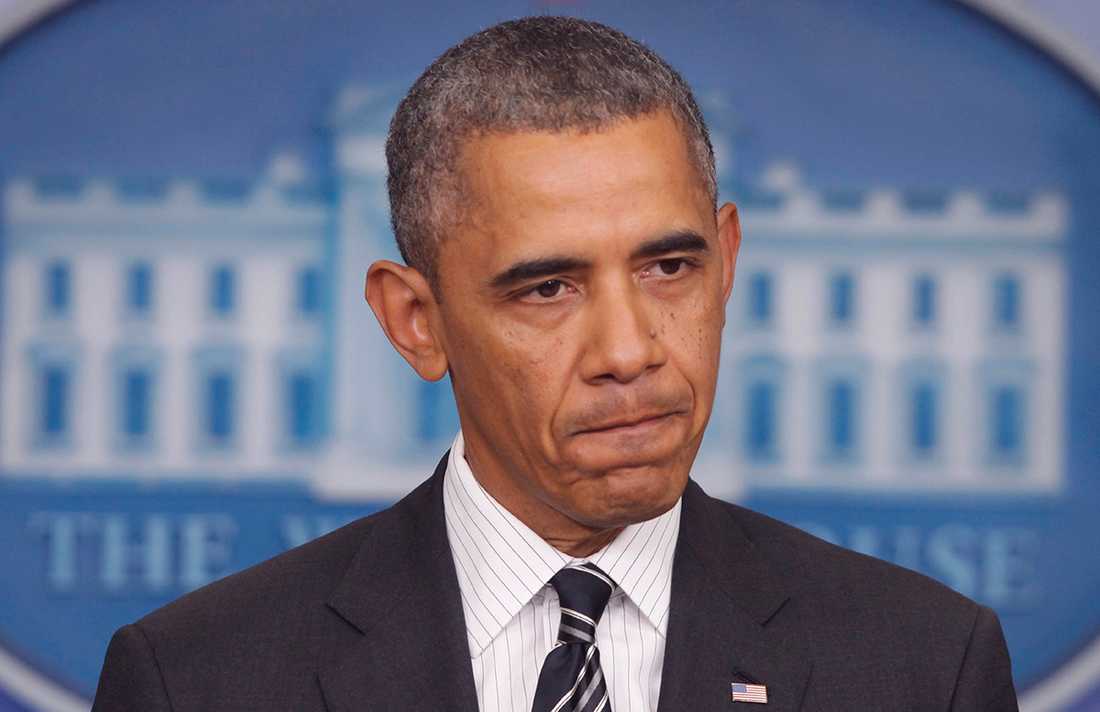 President Barack Obama brukar varje vecka delta i en radio- och videosändningen.
I lördagens sändning höll han inte tillbaka på krutet. Han kräver att kongressen avslutar stängningen av den amerikanska statsapparaten genom att ovillkorligt godkänna den federala budgeten.
– Kör en omröstning. Stoppa denna fars. Avsluta stängningen nu, säger Obama enligt nyhetsbyrån AFP, som fått tagit del i sändningen i förväg.
"Finns tillräckligt med röster"
Den amerikanska staten stängde alla väsentliga verksamheter tidigare i veckan efter att delar av kongressen vägrat att godkänna pengar för statliga verksamheter utan att först sätta sig emot den nya lagen om sjukvård, även kallad Obamacare.
Senaten har redan godkänt budgeten, påpekade Obama i sitt uttalande.
– Det finns även tillräckligt med republikanska och demokratiska röster i representanthuset som är villiga att göra samma sak och avsluta denna avstängning omedelbart, säger Obama.
Kritiskt läge om två veckor
Förhandlingarna har hittills inte gett någonting.
Obama var tydlig med att han inte kommer att betala en lösensumma för att öppna upp regeringens verksamheter.
– Och jag kommer definitivt inte betala en lösensumma i utbyte mot att höja skuldtaket.
Hårt står mot hårt.
För varje dag som går är hundratusentals människor utan lön, nationalparker stängda och samhället uppges skadas i stort.
Konsekvenserna i omvärlden märks även allt tydligare; frihandelsförhandlingarna med EU läggs på is, och sanktioner mot Iran och Syrien kan inte verkställas.
Om partierna inte når en uppgörelse innan den 17 oktober slår USA dessutom i skuldtaket. Då krävs det att det höjs för att USA ska kunna betala sina räknar och utgången kan omkullkasta världsekonomin.
I dag träffades representationshuset. Både demokraterna och republikanerna kom överens om att de statligt anställda ska få tillbaka sin lön retroaktivt så fort frysningen av den statliga verksamheten upphör. För att det ska gälla måste även senaten godkänna förslaget.
Läs hela Barack Obamas tal
Good morning. Earlier this week, the Republican House of Representatives chose to shut down a government they don't like over a health care law they don't like. And I've talked a lot about the real-world consequences of this shutdown in recent days – the services disrupted; the benefits delayed; the public servants kicked off the job without pay.
But today, I want to let the Americans dealing with those real-world consequences have their say. And these are just a few of the many heartbreaking letters I've gotten from them in the past couple weeks – including more than 30,000 over the past few days.
Kelly Mumper lives in rural Alabama. She works in early education, and has three children of her own in the Marines. Here's what she wrote to me on Wednesday.
"Our Head Start agency…was forced to stop providing services on October 1st for over 770 children, and 175 staff were furloughed. I am extremely concerned for the welfare of these children. There are parents who work and who attend school. Where are they leaving their children…is it a safe environment…are [they] getting the food that they receive at their Head Start program?"
On the day Julia Pruden's application to buy a home for her and her special needs children was approved by the USDA's rural development direct loan program, she wrote me from Minot, North Dakota.
"We put in an offer to purchase a home this weekend, and it was accepted…if funding does not go through, our chances of the American Dream [are] down the drain…We have worked really hard to get our credit to be acceptable to purchase a home…if it weren't for the direct lending program provided by the USDA, we would not qualify to buy the home we found."
These are just two of the many letters I've received from people who work hard; try to make ends meet; try to do right by their families. They're military or military spouses who've seen commissaries closed on their bases. They're veterans worried the services they've earned won't be there. They're business owners who've seen their contracts with the government put on hold, worried they'll have to let people go. I want them to know, I read the stories you share with me.
These are our fellow Americans. These are the people who sent us here to serve. And I know that Republicans in the House of Representatives are hearing the same kinds of stories, too.
As I made clear to them this week, there's only one way out of this reckless and damaging shutdown: pass a budget that funds our government, with no partisan strings attached. The Senate has already done this. And there are enough Republican and Democratic votes in the House of Representatives willing to do the same, and end this shutdown immediately. But the far right of the Republican Party won't let Speaker John Boehner give that bill a yes-or-no vote.
Take that vote. Stop this farce. End this shutdown now.
The American people don't get to demand ransom in exchange for doing their job. Neither does Congress. They don't get to hold our democracy or our economy hostage over a settled law. They don't get to kick a child out of Head Start if I don't agree to take her parents' health insurance away. That's not how our democracy is supposed to work.
That's why I won't pay a ransom in exchange for reopening the government. And I certainly won't pay a ransom in exchange for raising the debt ceiling. For as reckless as a government shutdown is, an economic shutdown that comes with default would be dramatically worse.
I'll always work with anyone of either party on ways to grow this economy, create new jobs, and get our fiscal house in order for the long haul. But not under the shadow of these threats to our economy.
Pass a budget. End this government shutdown.
Pay our bills. Prevent an economic shutdown.
These Americans and millions of others are counting on Congress to do the right thing. And I will do everything I can to make sure they do.
Thank you.
Publicerad: