Simon Bank's story of the Bosnian national team
Publicerad:
Uppdaterad:
SPORTBLADET
Sportbladet's Simon Bank followed the Bosnian national team and their fans during the final way to the World Cup. Here is his story.
1 av 7 | Foto: AP
PREMIÄRDAGS! I oktober 2013 möttes Argentina och Bosnien i en träningslandskamp. I dag möts de igen.
SARAJEVO-RIO DE JANEIRO. A war spread them all over the world, a sport brought them back. Tonight, Bosnia will play its first ever World Cup match.
A country keeps looking for a way forward.
A team is showing the way just by being here.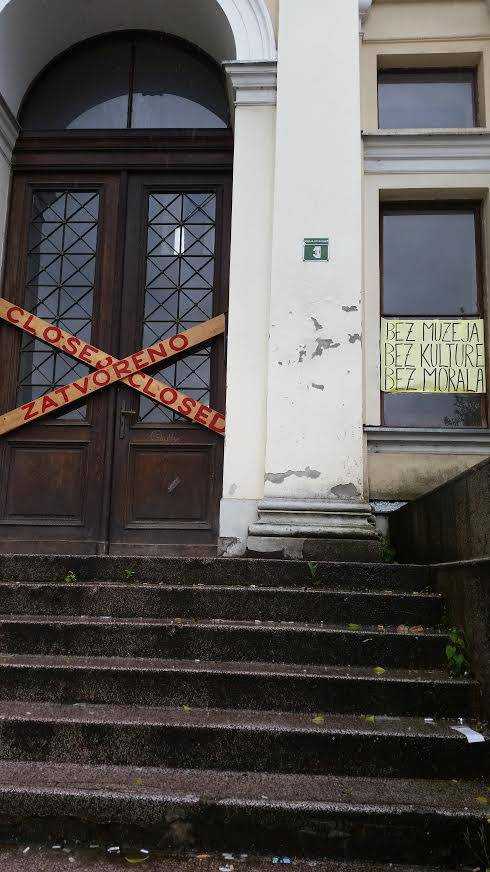 I krigets efterdyningar har kulturen fått ta stryk. När Simon Bank besöker nationalmuseet i Sarajevo är det stängt. "Inget museum. Ingen kultur. Ingen moral.", står det på ett plakat.
The late October night has turned into night as Rasim's phone gives up a buzz back home in Sweden. It's grandma, she's calling from Sarajevo. He can tell from the tremble in her voice that she is scared.
– What's happening? There are bombs going off in the streets again. What's going on, Rasim?
Rasim Reiz is 25 years old, one of thousands of Bosnians who fled to Sweden as the bullets tore Sarajevo apart two decades ago. He and his mom ended up at a refugee camp in southern Sweden. He's been told how he used to run for cover as airplanes landed or took of from a nearby airport.
Rasim is one of those whose lives were given a new direction by the bombs and the war. But all that's in the past now. He's moved to Stockholm, two nights every week we play football for the same fourth level team.
And for the time being, he just wants to calm down an old woman who's voice is shivering at the other end of the line.
– They are fireworks, grandma. Turn on the telly, then you'll understand.
● ● ●
As I and Rasim hits the ground in Sarajevo, six months have passed since that historical qualification night in Kaunas, and other pictures keep flowing from tv's live coverage. It's mid May, you're able to find photo books from the World Cup qualification next to poetry books in the displays of the book stores in the Old Town. People are crouching in the cafes, others keep coming out from prayer in the mosque.
The outside world has yet to understand, but a deluge have just hit Bosnia. News reports keep coming in with emergency alarms from all over the country, 24 hours a day. From Mostar, from Tuzla, from Banja Luka and from villages all over the Balkans, already hit with all kinds of hardship.
Bridges are falling, houses are crashing to the ground, the water keeps flowing down from the mountains, taking cattle, buildings, communities, crops, whole lives with it on its way.
It's being reported that hidden landmines are torn up, memories from the past. Later it will be reported that a mass grave, missed bodies from Jablanica, has surfaced.
And it just won't stop raining.
In Sarajevo, people are hiding from the rain under umbrellas and roofs. The Miljacka river is bursting with rusty red anger. Resolute workers keep building barricades from white plastic. Other defence mecanisms are somewhat more typical Bosnian. One of the hugely popular folk singer Halid Bešlić's most loved songs describes how the flood keeps overflowing to keep him from meeting his true love.
Ko bi rek'o cuda da se dese/plava Miljacka mostove odnese/da ne mogu tebi doc'/da ne mogu ulicom ti proc'
Who could believe that miracles could happen/that blue Miljacka would take the bridges away/and keep me from coming to you/keep me from walking your street.
The spring of 2014 Miljacka is everything but blue, it's violently brown, but it keeps bringing bridges down, and it's not long before a joke picture is making the rounds on the social networks: a photo of a banner with three words, put on one of the bridges:
E JEBIGA HALIDE! FOR FUCK'S SAKE, HALID!
Dark humour as a means of survival. From time to time I wonder whether it might be fully possible to hold a long conversation down here, using only three words, as long as those words are mafia, politics and Džeko.
You move on. You rebuild. You look forward. Not because it's easily done, but because you know that the alternative here leads straight down into the abyss.
● ● ●
We have our morning coffee at Macciato, a café a few hundred meters from the Grbavica, home stadium of Željezničar.
Old men are discussing this week's betting pools, puffing away on their cigarettes, taking about football. The ladies team of FK Sarajevo show up, it hits me how small and young they all seem.
As it happens, we end up next to one of the men who more than most can tell us about the state of the game in Bosnia. Husref Musemić has just finished his fourth and last stint as manager for FK Sarajevo. This time it has been under the ownership of Vincent Tan, the Malaysian billionaire who's known more than anything for having made Cardiff City change colours from blue to red.
Tan is the first foreign owner to make the step into Bosnian league football, but not even Musemić knows an awful lot about his vision.
– He's signed a three year contract, but I have no clue about what he wants, he says. Most people don't see any possibilities to gain anything from investments down here. The corruption are keeping investors from coming here.
Mafia. Politics.
Musemić himself has just undergone heart surgery, he looks a bit older than 52, and he says that in reality there are but two clubs who can work professionally, with decent stadiums and training facilities with artificial turf.
– It's getting better. The organisation, the clubs, the league, and especially the referees have developed. But we still have a long way to go.
– Bosnia is full of talent, not just within football, but the infrastructure remains weak.
What will the World Cup mean for the domestic game?
– A lot. But I would have preferred if it was held in Europa, so that more supporters could afford to go there.
– Also, it would be good for the league if someone from it would make the squad. It would prove that we have quality here. But Sušić is the coach, it's his choice. There will always be critics.
The debate surrounding Safet Sušić's choices have concerned nepotism and the lack of local players.
We finish our coffee, unfold our umbrellas and go for a stroll to the Grbavica. As we get there, we bump into Srdjan Stanić by chance.
Srdjan is 24 years old, an allround midfielder, and quite possibly the best player in the Bosnian league. He's just about to start negotiations with foreign clubs, and he's just been given the chance of a lifetime.
A few minutes before our meeting he's been called up to the preliminary World Cup squad. Mensur Mujdža is fighting an injury, and so the door to Brazil is open.
Srdjan loves Sarajevo, but is on the way to leave. He's not the only one.
● ● ●
The days we spend in Sarajevo are much like stepping straight into stories I've written in the past, from a distance.
By coincidence, we meet a 38 year old, dark-haired man out on the street. He looks like a football player, for the simple reason that he used to be one until recently. We just get to say a quick hello, as he's on his way to oversee a training session with Željezničar's junior team.
It's been three years since I last wrote about Edis Mulalić. Back then he was the captain of Željo when the club celebrated it's 90th anniversary by playing a friendly against Croatian giants Hajduk. The match was played on the very same day that the thinktank Crisis Group put forward a report leading with the thesis that Bosnia was but one spark away from bursting into a new, devastating conflict, and just before kick-off bosniaks and croats rushed into each other on the streets outside the stadium.
– There are powerful groups who want to to destroy everything that might lead towards integration and reconciliation, said Ivica Osim, who was in charge of the normalization committee which had been put in place to lead Bosnian football back on track once and for all.
The match was never played, as security couldn't be guaranteed. I wrote about how Edis Mulalić stepped upp to speak for the whole club.
– We wanted to have a nice farewell, we wanted to be able to thank the supporters who have always stood by us, through thick and thin, but it all turned into something completely different.
Mafia. Politics.
Football remains an allegory for everything good and a lot of what's bad with Bosnia. Possibilites on one side, obstacles on the other. The last few years there have been riots and even deaths in connection to football matches in Sarajevo and Mostar. Mid March a youth international friendly against Serbia in Modriča, Republika Srpska, had to be called off.
Fans had been honouring the war criminal Ratko Mladić, they had been chanting horrendous chants.
– Ubij Turčina! Kill the Turk!
– Nož, žica, Srebrenica! Knife, wire, Srebrenica!
Lives through echoes
The match was played right after the whole of Bosnia had been rocked by demonstration and riots, initiated in Tuzla and rapidly spreading all over the country. People were protesting against mindless privatizations and against the political class who had grown stronger amidst the corruption following the war.
Government buildings were gatecrashed, protestors faught police and military, several ministers were forced to resign.
The signs and the protests lost pace, but never disappeared. In Sarajevo, protestors are patiently holding their signs up next to the street.
They stand there still, in the neverending rain.
A war doesn't stop when the bombs stop falling, it lives on in echoes and suspicions. The national museum of Sarajevo is one of the oldest in Europe, an oasis of culture, filled with archives, books and art.
It survived the war. Peace closed its doors.
Like several other cultural institutions, the museum was forced to close as politicians simply couldn't agree on whose responsibility it was to pay the bills.
Mafia. Politics.
I walk up to the museum just to catch a glimpse of the decay, but the only thing to see are closed doors and a sign where someone has written a sad message:
No museum. No culture. No morals.
Tv is showing an interview with Haris Pašović, a director who has just been appointed chairman of a committee in charge of saving the museum.
I remember that I've written about Pašović before. During the World Cup in South Africa he staged the dance theater play "Football Football" in Johannesburg. He had been interviewing Džeko och Misimović while writing the play, the piece itself was an action of resistance.
Pašović was one of those who stayed in Sarajevo during the siege. As bullets kept raining from the hills, he directed "Waiting for Godot". While bombs were exploding, he arranged a film festival. He explained:
– People keep asking me: "Why do you organize a film festival during the siege?" I answered: "Why are they having a siege during my film festival?"
Only the ones who truly love art can save art.
How can we be sure?
Because only the ones who truly loved football could save football.
● ● ●
To get to Elvedin Begić's office we have to ask for directions at the information desk at the Sarajevo airport.
During the war they dug tunnels under the landing slips, that was how they could get weapons, food and people in and out during the siege. Two decades later, Begić is sitting in front of us, behind a desk full of miniature airplanes and business magazines with his face on the cover.
He runs the airport, but first and foremost he's spent the last two years being the first real president of Bosnia's Football Federation.
It's soaking wet outside, but planes keep landing and taking off on time. Things are thousands times worse elsewhere. We talk about football, about building something in a country where it's a challenge to make things grow.
After the war football followed the same Dayton deal logic as the rest of society, with a rotating presidency after ethnical lines.
Compromise was the ambition. Reality? Mafia. Politics.
Organized supporterled protests, combined with threaths of exclusion by the Uefa, finally led to a normalizing committee with real football people – and legendary Ivica Osim in charge – taking over the federation.
Today it is led by Elvedin Begić, a middle-aged airport manager who leaves you with an impression of… in lack of better words: stability.
– We were excluded, but just a few years later we are back to play the World Cup. That makes me very proud. We had problems with corruption at all levels of the federation.
Ivica Osim said that there are powers who fight against integration and reconciliation. Is that something you agree on?
– Everyone shares that feeling, everyone living in Bosnia. There are those who wish to push forward, and others who want to stop the process as they have nothing to gain from it. But we also have a lot of people who are struggling just to make ends meet. Having qualified for the World Cup shows that we are getting somewhere.
– The World Cup means so much, and not only as a sporting achievement. It's the biggest thing that's ever happened, something that's good for the country on so many levels.
Every little sign pointing in that direction, that football has found a way forward, is made into a symbol. Little steps making a big difference.
Just before the World Cup, the national team changed their kit supplier, from a small brand to mighty Adidas. Begić says that the change hardly makes any difference financially, but that he takes pride in the fact that Bosnian players now get to wear the same kit as all other teams.
The World Cup might even make international companies interested in investing in Bosnia.
Everyone I talk to keeps mentioning the lack of infrastructure, the lack of resources. But to me, it seems like what Bosnia misses more than anything is trust and confindence?
– That's a feeling that has been surfacing over the last twenty years, and it's hard to distance yourself from it. That's a problem we've got. Twenty years isn't a lot of time, it's hard to find the way back to each other again.
– The important thing is to talk about the problems. To regain confidence you need to build something lasting together, like we are doing with football here.
The whole world has gathered around the image of a Bosnian team which is a dream about a united Bosnia. Multicultural and successful, with no ethnical conflicts. A Muslim is passing the ball to an Orthodox Christian. A Serb hits a cross for a Bosniak to head into the net.
At the very same time, there's another reality which keeps moving slower.
It's still raining over the Balkans, mines and mass graves in the mud. In Sarajevo's Old Town, photographer Tarik Samarah's exhibition "Srebrenica: You are my witness" is still on show.
The mission for Bosnia is to forget – and to never forget?
Elvedin Begić keeps a framed ticket from last year's Champions League final on the wall, he is going to Brazil as the leader of a young federation.
– What's been has been, he says. We have to find strength in all things positive, like football. We have to forgive, but must never forget.
● ● ●
Before we leave the airport, I ask Begić about the Bosnians who don't live here anymore, all those who were spread over the world as the country stood in flames. Young men and women who love this national team at least as much as all those who stayed, young men and women who were given their lives and their football elsewhere.
There's hardly a West European national team which hasn't taken advantage of all the talent that flowed out from the Balkans.
– It makes us proud that other countries are sharing our talent, but at the same time it's sad that they didn't choose to play for us, because that would have made us even stronger. Look at Zlatan Ibrahimović… we are proud of his roots (a Bosnian father, Croatian mother) and happy about what he's done for Sweden, but it's also a bit sad.
– All young people, I understand that they want a better future for themselves, but I would love it if they understood that it's possible to succeed here too. That you don't have to move abroad.
At one of the tables at Macciato, the café next to Grbavica, Srdjan Stanić sits down to think about his future. First, he will try to break into the World Cup squad, then he has to make up his mind about where he wants to play football.
– To be honest, it's a bit stressful, he says. I've got one month to make a whole lot of important choices.
We are chatting with Srdjan and his girlfriend Alma Adilović, discussing Europe, drawing sketches on how to make a schematic system on Bosnian curse words. Laughters all around. They are young and intelligent, beautiful and successful, their future is bursting with promise.
But it will be somewhere else, not here.
– We've experienced a brain drain on a massive scale, worse than anywhere else in Europa. I've been studying for sixteen years, I don't want to stay here and live on a minimal wage, Alma says.
Even for a popular football player, everyday life has its downsides. Security has flaws, supporters have been cutting the tires of cars, during matches they might throw stones from the stands.
Still, the domestic game faces other problems that Srdjan wants to focus on.
– There are more agents here than anywhere else. Everyone is an agent, licenses can be bought for nothing and then they go out and signs with 14-15 year olds for a few hundred – and when these boys want to move someplace four or five years down the road, they will face problems.
Mafia. Politics.
– For us, the professionals, it's not a problem. We know how things work, I've got a great agent who happens to be a close friend of mine. It's worse for the kids.
Alma tells us about the things that make Sarajevo a unique place: the sense of closeness, of being in some ways part of a family.
– Whenever Edin Džeko comes to visit, he's no longer a big star. Sure, he's loved, but noone runs after him, noone hunts him for autographs. Actors, pop stars, footballers, it really doesn't matter – you can't become a star here. That's a bit special, a special mentality of ours.
Fireworks
As the national team and the Under 21:s meet in a friendly, Srdjan plays really well, he takes the chance but will not be given a chance. The injury situation improves, and when the final World Cup squad is announced his name is not in it. He will get to watch the World Cup on tv, while making decisions on his future abroad.
– I've never lived anywhere else but here, he says. Sarajevo is my home, and I love it. I don't know what it will be like to move.
● ● ●
"It's unbelievable how every keeper seems to have the game of their life against us! But next time Džeko gets the ball he will score, and… here it comes! Here it comes! Here it comes! GOOOAAAAL! Terminator, you say?! PREDATOR! Bosnia are one-nil up! My darling! My blue eye! Your mother kisses you!"
That night, when Bosnia won the deciding qualification game against Lithuania in Kaunas, Sarajevo took to the streets to yell their lungs out and shoot fireworks that made old women wonder what was happening.
The telly kept broadcasting the game over and over again, from first kick to last.
It remained no more than twenty minutes when Vedad Ibišević knicked the deciding goal, and even if it more than anything was a success that pointed out that there where things to look forward to, it was a night when Bosnia didn't mind watching the same clip in a seemingly eternal loop.
It was Marjan Mijajlović, legendary commentator, who gave voice to the ecstasy, it was he who lost it when Vedo Ibišević scored.
– Darling! My blue eye! Your mother kisses you!
Bosnia is full of blue eyes, it's a Turkish symbol destined to bring luck, to protect against all kinds of bad luck. Eyes are used as wall decorations or glass trinkets, Muslim amulets.
We're having dinner at Rasim's ant's, a proper Sarajevo feast. The first thing put on a plate in front of me is a calve's head. Amar, Rasim's cousin, teaches me how to tear the pieces apart, how to nibble on the jaw, expose the brain and finish it all by shaping the index finger like a hook in order to poke out the eye from the inside.
The Serbian tv channel Arenasport are broadcasting live from the Europa League final in Turin. They start some ten hours before kick-off, by asking their reporter, standing in front of the stadium, about the atmosphere ("Well, noone's there. It's quiet"), while other channels keep reporting on the evolving disaster all over the Balkans.
Edin Džeko speaks to CNN in order to call for help.
– People have been trying to build something for themselves and their children for twenty years. Now they've lost everything in a day or two.
Croatian villages under water, Serbian cities where boats are used as transports on car roads. In a country where trust is scarce, nothing is more important than leaders you can actually trust. In the run-in to the elections in October, the public trust for politicians is hardly even measurable.
When Bosnian football were to choose a manager for the national team some five years ago, they simply picked the biggest name they could think of.
– We were looking for a character who people would follow, who the players would trust. It's hard to find. For Bosnia as a country it was also important to find one of our own, it's too early still to go hiring foreign coaches, Begić says.
Safet "Pape" Sušić is rated the best foreign player to ever play in Ligue 1, he's been voted Balkan's best player ever and he has taken the national team to the World Cup.
We visit the federation's office, right behind Hotel Europa in the Old Town.
Press officer Slavica Pecikoza used to play basketball for the national team, she has worked as a journalist, but now she is in charge of the federation's communication.
The first time we speak she only has two demands before she accepts a request for an interview with Sušić:
– Simon… no questions about politics. And no questions about the war.
Pape recieves us in his office, we speak in French before a World Cup trip about to start. But Sušić has been in this situation before, if he's feeling the pressure, it doesn't show.
– No. No pressure. But in one month's time it will be awful… We are just fifteen players now, the others will join by the end of the week. The players are tired, most of them have played 45, 50, some even 60 games during the season. We have to be careful not to risk any injuries on key players.
He has not picked more than two out-an-out attacking players. An injury to Ibišević or Džeko would be disastrous.
– Sure, the strikers in particular. But we also have a very good keeper (Asmir Begović). I can't imagine having him injured. Or Pjanić, or Spahić… they are also vital.
Everyone are saying that you have a golden generation at the time being. Is this a one-off opportunity, or will there be more chances?
– When I look at the squad and compare it with when I took charge, we have seventeen new players. Only five or six remain (since then). But we are lucky, we've got a lot of youngsters, a lot of kids who left Bosnia during the war and have grown up in countries where they have been able to practice and develope, so every year we have two or three new ones who are breaking through. This year, we've had Kolasinać (Schalke), we get players like Hajrović (Galatasaray) and Bičakčić (Hoffenheim). And others who we haven't even heard of yet. There will be more.
I ask him about what his team stands for, what he wants it to symbolize.
– We are doing things all the time. They (the players) are very solidary, very generous. They engage themselves in charities, they are open and friendly. They've never forgotten where they are coming from.
When Pape took charge there were no doubts in the squad. He had his status, his history, his position.
– But the players here aren't hard to lead. There are two…
He spreads his arms, smiles wryly.
– Two who are a bit… Zlatan.
I suppose one of them might be Pjanić, but the doesn't mention names.
– The others aren't difficult. I mean, players like Zlatan (Ibrahimović), you can't tell them anything. There's no advice to give. What are you going to tell Messi? You give him the shirt, ask him to play.
When Pape took over the post he worked for a federation that was being torn apart by conflict. The leadership was corrupt to bits, heavy leaders were being indicted for fraud, the supporters protested and for a spell the players even refused to play for the national team.
Today, the situation is completely different.
– Yes, a lot has changed. Back then, we had leaders noone trusted. Now everything is in place. We have a much stronger team now, the team has developed and we have gotten new players. The young have become better, today we have fifteen or so players of very high quality.
How important are the supporters?
– Very. We know that we have been playing well in the qualifiers, we know that we have a good team, and we know that the supporters always turn up. The match in Greece aside, when we weren't given enough tickets, they have been everywhere. In the first match, in Liechtenstein, we played in a small stadium with 6 000–7 000 seats – we had seven thousand Bosnians with us there.
– In Slovakia we outnumbered the Slovaks. In Lithuania, it was the same thing. Without their support I honestly don't know whether we had made it to the World Cup.
It doesn't matter whether this side plays in Liechtenstein, in the US or in Brazil. The diaspora is everywhere, the stands will always be bursting.
I tell him about the demands for getting the interview, that we weren't to ask any questions about the war or politics. Pape shrugs his shoulders.
– I let politicians handle politics.
Does the subject bore you?
– I avoid it. I don't know enough about politics to talk about it, there are others who know a whole lot more. I know a lot of politicians, sure, a lot of them are my friends, but I stay away from it.
I take it it's most international media who ask questions?
– Yes. They keep asking, but it's difficult to answer.
Bosnia needs the right kind of politics, the right kind of politicians, but it has gotten used to it being an area where other interests are calling the shots.
And right now other things are more urgent. Sušić has already picked nine of eleven players for the starting eleven against Argentina. The main question being how to balance his midfield. In the qualification campaign he could pick three creative central midfielders, in the finals opposition will be tougher.
Today, Bosnia are playing the first World Cup game in the nation's history. They are playing Argentina, in the Maracanã.
To Pape, it's special in more ways than one.
In the summer of 1979 he scored a hat-trick against reigning world champions Argentina back in Zagreb. In the game before that he had scored a hat-trick against Italy, world champions to be.
But above all, he played against Argentina in the World Cup in 1990.
– They were hardly even the favourite, we had a truly great team back then. As you know, Yugoslavia was still united, with great players. If we would do the same thing today, pick a team from all Yugoslavian players, we would remain one of the favourites to win the World Cup.
Back in Yugoslavia nationalistic forces had gathered momentum. Bosnia were to be torn apart under pressure from a separatistic Croatia and a Serbia with Great Serbia ambitions.
In Florence the Bosnian defender Faruk Hadžibegić missed the decisive penalty, Argentina went through to the semifinals. Years later, the national team manager Ivica Osim talked about how he couldn't stop wondering whether another, successful result would have, in some way, maybe have been able to change the course of history.
– We lost on penalties, but we played with ten men for hundred minutes (Refik Šabanadžović got sent off after 30 minutes) and made it all the way through extra time. Those aren't bad memories. It was a quarter final, we had already beaten Spain, and we had reached our goal. Everything more than that would have been a bonus.
The players went back home after the World Cup, the country was falling apart, and in the Bosnian parliament, president Izetbegović desperately tried to calm his people.
– Sleep calm, he said. There will be no war.
But there was a war. The total war, in front of a paralyzed and blind world community. It wasn't Syria, but it was in Europe.
The match against Argentina were to be the last in a major tournament for a united Yugoslavia. And the match against Argentina will be the first match in a major tournament for an independent Bosnia.
● ● ●
Footballers aren't saviours. A World Cup tournament cannot unite a divided country, a success in sports won't turn back time.
So what, then, does this team stand for?
The World Cup is still a month away as we step inside the gates of Kulturno Sportski Centar, a modest sports centre in one of Sarajevo's suburbs. The national team is to train together for the first time during the camp, the floods have forced them to move the session here.
Two elder men are crouching over an obsolete line marking machine, a third is hanging the goal nets over the posts. It's wet, clouds are coming down low over the pitch, green hills are giving an immensely beautiful frame to all of Hrsanica, but it's an environment more suited for a decent fifth-level team than for one of the world's best national sides.
A garbage truck hits the breaks as it passes the worn-down basketball court behind one of the sidelines, one of the garbage collectors hangs out from the back of the car and screams on the top of his lungs:
– Pjanić!
Miralem Pjanić nods as he walks by, backpack over one shoulder, he's the first one out for the first training session. He has arrived to Sarajevo by private jet, he has spent all of his life outside Bosnia's borders. He grew up in Luxemburg, spent his teens in France, he lives a star's life in Rome. But the first thing Pjanić did when he landed was to step into a pharmacy to buy everything they had, in order to send it to flood victims. And when Bosnia qualified for the World Cup, everyone could se exactly what it ment to him.
– This is what we play for, he said. This is what we live for.
The story of this national team is the story of this nation.
Asmir Begović's family fled from Trebinje and ended up in Germany and Canada. Edin Džeko is still alive thanks to the fact that his mother forbid him to go out and play football in Sarajevo one afternoon when a bomb exploded. Vedad Ibišević was seven years old when his mother dug a hole to hide him and his baby sister back in Vlasenica, before they fled to Switzerland and the United States. Sixteen of the players in the World Cup squad started their football careers someplace outside of Bosnia.
We watch as fifteen of them strolls around the pitch, lap after lap. They are still wearing their old brand of training gear. I talk to Rasim, his mother is calling him to know that everything is ok. Her life was destroyed by a war, she had to build a new one in Sweden.
Football is both the way back to Bosnia for everyone who was forced away, and a way forward for the Bosnia who is still here. A way to come home. A way to get on.
The rain stops, but the traces of the disaster are unimaginable. One million people have been affected, at least forty have lost their lives, a hundred thousand have had their homes wrecked forever. Support and sympathies are coming from all over the world. Safet Sušić makes a donation, and when the national team are playing the U21:s in a friendly, the players unfold a banner which encourages everyone to show support "for Bosnia-Herzegovina, Croatia and Serbia".
Villages, communities and lives are rebuilt from scratch. History keeps moving. A generation was spread all over the world, they returned home to bring their country to Brazil.
Bosnia still has a very long way to go before they are back where they started, but this summer they will be turning their blue eyes toward a team that at least is moving in the right direction.
Their mothers are kissing them.
Publicerad: